Better loyalty. Smarter marketing.
Simple and easy sign up
Cinch makes it easy for your customers to sign up. No cards, no apps, just simple!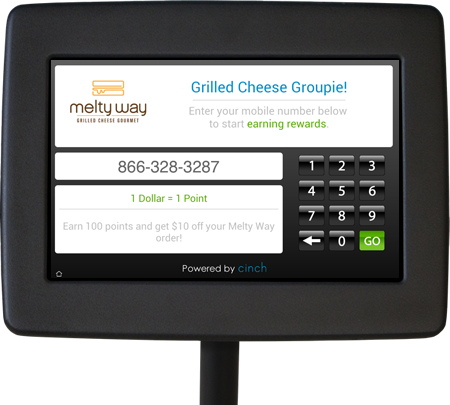 Customer easily joins with their mobile number
Customer joins in seconds by entering their mobile number. Because it's so quick and easy, participation rate goes way up.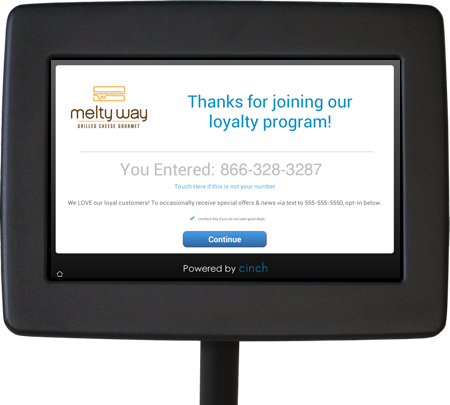 Customer receives confirmation upon joining
A few seconds after their first visit they'll receive a text message with a link to complete their profile, where you'll get additional demographic information. Over 90% of people who join also opt in to receive marketing via text.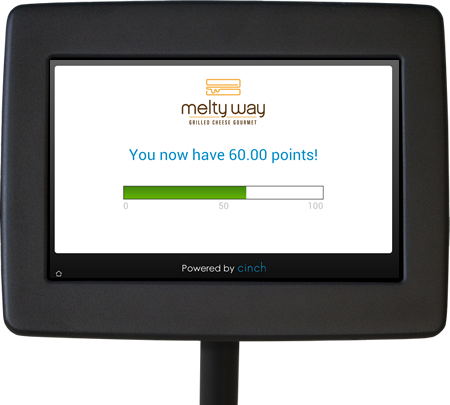 Easily integrates with most POS systems
Points are automatically added to their account when their cashier completes the transaction. It's fast and easy for your customers and employees.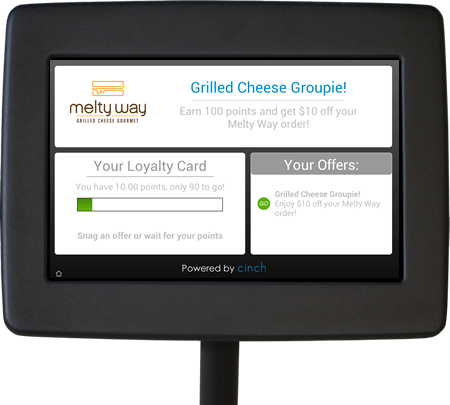 Customer earns rewards, stays loyal, you track results
When a customer earns a reward, on their next visit it will be waiting in the kiosk. They simply tap it to redeem, and their loyalty to you grows.
Smarter marketing
FavoriteEats is simple for your customers, and simple for you
Targeted marketing
One offer to guys, another to gals. One to your regulars, another to first-time customers. We have auto-pilot too! Send a special treat automatically on someone's birthday, or when they haven't been in for 30 days. We also track redemptions automatically, so you'll know which offers work and which don't.
Gather feedback easily
Occasionally after their visit, they'll receive a text with a link to a survey. View data in real-time, encourage positive survey takers to do a review on Yelp, be alerted in real-time if someone is unhappy.
We provide incredible data
You'll know how many customers join & use your loyalty program each day, how many rewards are earned and redeemed. You'll even know which items individual customers purchase.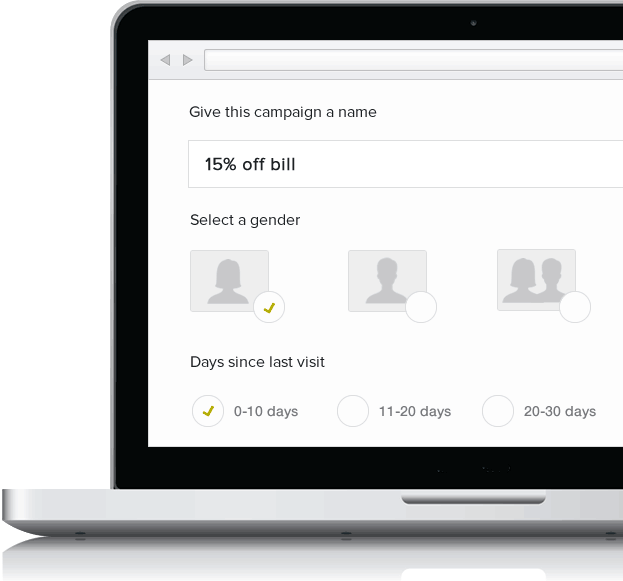 Easier for you, easier for them
FavoriteEats makes it super simple with features that are easy for you and them

No Cards, No Fuss
All your customers need to join your loyalty program is their phone number. No cards to carry, no apps to download. Your customers will tell you everyday how much they love this simplicity, and you will too.

Custom Rewards
Simply decide how many points your customers need to earn and what their reward will be. They will get one point for every dollar they spend. Once they earn a reward they simply enter their number in the kiosk to redeem.

Quick and Easy
Everything from setting up your account to installing the kiosk to using FavoriteEats every day is quick and easy. Many customers find their line even moves quicker than it did when using old fashioned loyalty cards.
Boost your customer loyalty